About MTCO Communications
MTCO HISTORY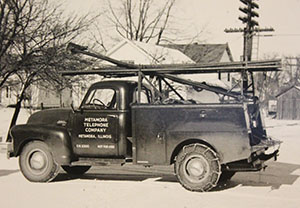 In March 1945, Raymond and Elyme Rauh of DePue, Illinois, purchased the company, and moved their three young sons (ages 12, 8, and 5) to Metamora, Illinois. Metamora Telephone Company was incorporated as a local exchange carrier and the exchange boundaries of Metamora and Germantown Hills were established. At the time of purchase, Metamora Telephone Company had 746 customers. The business operated out of a house, where the Rauh family took up residence. They continued to maintain the existing telephone lines until, following World War II, the materials necessary for substantial upgrades again became available.

The year 1958 brought the end of an era when operations moved from the house to a new office building built adjacent to the Rauh family home. By this time the customer base had grown to 1150.

During the 1960's, a system of manholes and ducts was extended from the Metamora central office to provide service in the outlying rural areas, and efforts began to convert all customers to one-party line service.

In 1985, Raymond Rauh retired, turning operations over to his three sons. Glenn Rauh became President, John Rauh continued as V.P. of Commercial Operations, and Allen Rauh continued as V.P. or Outside Plant Operations. Elyme Rauh also passed her role as Treasurer of the corporation to the next generation, as her grandson Kevin Rauh took a seat on the Board of Directors.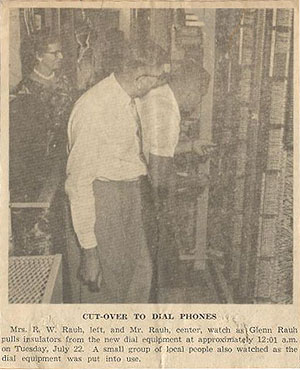 On January 1, 1987, the purchase of Marseilles Telephone Company was finalized, becoming a second MTCO Company. This is also the first year digital switches were installed in the Metamora and Germantown Hills offices (and installed in Marseilles in 1990), increasing capacity and features available to the public.

During the 1980's and early 1990's, MTCO began to further diversify, and started offering paging service, as well as key system sales, installation and service. Through the acquisition of Radio Page of Illinois and GTE Paging in 1986, MTCO further built its paging customer base to become the premier paging provider in Central Illinois with its excellent coverage area and dedication to customer service.

When the opportunity arose to become a minority partner in a cellular venture, MTCO became the Network and Operating Partner of Illinois Valley Cellular in 1991. Illinois Valley Cellular (now IVCellular) increased tower coverage, converted to digital technology, and expanded office space twice, and again a third time in 2002 to a new 22,000 square foot office building along the Illinois River in Marseilles.

The popularity of the Internet provided another opportunity in 1995 when MTCO acquired Driscoll Communications, an Internet company operated by two brothers in Metamora. With a customer base of 200, and a few pieces of equipment, MTCO Communications was up and running. MTCO began offering dial-up Internet service to small and large communities, with a focus on local communities being underserved at the time. Demand for high-speed Internet access prompted offerings for ISDN and T-1 Access, and ultimately DSL broadband services.

In early 2008 next generation Fiber-To-The-Home phone and Internet service was introduced to small sections just outside its service areas with continued plans to expand its Fiber footprint. MTCO's latest endeavor was launching All-Digital IPTV service with new bundled packages for Internet, TV and Voice in early 2011 to Germantown Hills, Marseilles and Metamora.