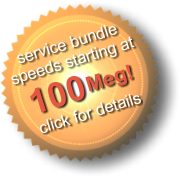 What to expect when we get to your neighborhood...
You will initially see white flags along the utility easement on your property, followed up by JULIE personnel marking services with flags of various colors.
Outside crews will begin digging holes every one to two houses for directional boring. Sod will be replaced and any reseeding of lawn will take place once the hole is filled back in.
Fiber vaults will then be placed in the ground approximately every ten houses. Within 1-2 weeks each hole dug for the vault will be completed with sod replacement. Vault entry will be level with the ground.
MTCO will send a tech to do an in home visit to determine the best location for the outside crew to bring the fiber pipe to your home.
Our crews will install the fiber optics to the outside of your home to prepare you for the next generation with fiber to the home.
A customer service rep will call you to schedule your digiMAX install inside your home!
How to get MTCO Fiber Optic Services to your home...
Contact an MTCO Customer Service Representative to verify fiber is available at your address:

Complete and return a Pre-Subscription Agreement.
Upon receipt of the Pre-Subscription Agreement, we run a Credit Assessment and contact you to schedule a time to come to your home to decide which area would be best to bring the fiber to your home.
Our crews will bring Fiber Optics all the way to your home to bring you next generation Fiber-To-The-Home Internet, TV and Voice!
Once complete, a Customer Service Representative will call to schedule your in-home installation!
You can mail the Pre-Subscription Form to MTCO, 220 N. Menard St, Metamora, IL 61548,
email to
fiber@corp.mtco.com
or drop it in our Lindy's drop box in Washington or at our Metamora office.